Health
Polycystic Ovary Syndrome (PCOS)
A common health problem in women's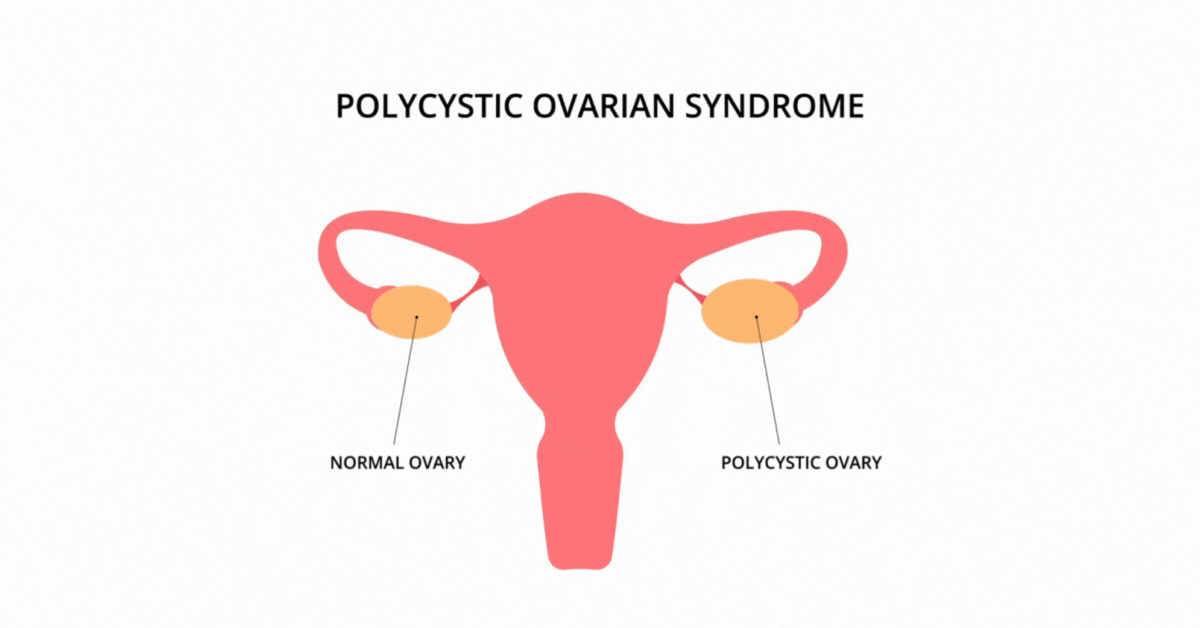 Polycystic ovary syndrome (PCOS), also known as polycystic ovarian syndrome, is a common health problem caused by an imbalance of reproductive hormones. Polycystic ovary syndrome (PCOS) is a health problem that affects 1 in 10 women of childbearing age. The hormonal imbalance creates problems in the ovaries. The ovaries make the egg that is released each month as part of a healthy menstrual cycle. With PCOS, the egg may not develop as it should or it may not be released during ovulation as it should be.
PCOS can cause missed or irregular menstrual periods. Irregular periods can lead to:
Infertility (inability to get pregnant). In fact, PCOS is one of the most common causes of infertility in women.
Development of cysts (small fluid-filled sacs) in the ovaries
The cause of polycystic ovary syndrome isn't well understood, but may involve a combination of genetic and environmental factors. Polycystic ovary syndrome (PCOS) is a problem with hormones that happens during the reproductive years. If you have PCOS , you may not have periods very often. Or you may have periods that last many days. You may also have too much of a hormone called androgen in your body. Between 5% and 10% of women between 15 and 44, or during the years you can have children, have PCOS. women find out they have PCOS in their 20s and 30s, when they have problems getting pregnant and see their doctor. But PCOS can happen at any age after puberty.
With PCOS, many small sacs of fluid develop along the outer edge of the ovary. These are called cysts. The small fluid-filled cysts contain immature eggs. These are called follicles. The follicles fail to regularly release eggs.
The exact cause of PCOS is unknown. Early diagnosis and treatment along with weight loss may lower the risk of long-term complications such as type 2 diabetes and heart disease.
Symptoms
Symptoms of PCOS often start around the time of the first menstrual period. Sometimes symptoms develop later after you have had periods for a while.
The symptoms of PCOS vary. A diagnosis of PCOS is made when you have at least two of these:
Irregular Menstrual Cycle. Having few menstrual periods or having periods that aren't regular are common signs of PCOS. So is having periods that last for many days or longer than is typical for a period. For example, you might have fewer than nine periods a year. And those periods may occur more than 35 days apart. You may have trouble getting pregnant.
Too much androgen. High levels of the hormone androgen may result in excess facial and body hair. This is called hirsutism. Hirsutism affects up to 70% of women with PCOS. Sometimes, severe acne and male-pattern baldness can happen, too.
Polycystic ovaries. Your ovaries might be bigger. Many follicles containing immature eggs may develop around the edge of the ovary. The ovaries might not work the way they should.
Acne on the face, chest, and upper back
Thinning hair or hair loss on the scalp; male-pattern baldness
Weight gain or difficulty losing weight
Darkening of skin, particularly along neck creases, in the groin, and underneath breasts
Skin tags, which are small excess flaps of skin in the armpits or neck area
PCOS signs and symptoms are typically more severe in people with obesity.
When to see a doctor
See your health care provider if you're worried about your periods, if you're having trouble getting pregnant, or if you have signs of excess androgen. These might include new hair growth on your face and body, acne and male-pattern baldness.
Causes
The exact cause of PCOS isn't known. Factors that might play a role include:
Insulin resistance. Insulin is a hormone that the pancreas makes. It allows cells to use sugar, your body's primary energy supply. If cells become resistant to the action of insulin, then blood sugar levels can go up. This can cause your body to make more insulin to try to bring down the blood sugar level.
Too much insulin might cause your body to make too much of the male hormone androgen. You could have trouble with ovulation, the process where eggs are released from the ovary.
One sign of insulin resistance is dark, velvety patches of skin on the lower part of the neck, armpits, groin or under the breasts. A bigger appetite and weight gain may be other signs.
Low-grade inflammation. White blood cells make substances in response to infection or injury. This response is called low-grade inflammation. Research shows that people with PCOS have a type of long-term, low-grade inflammation that leads polycystic ovaries to produce androgens. This can lead to heart and blood vessel problems.
Heredity. Research suggests that certain genes might be linked to PCOS. Having a family history of PCOS may play a role in developing the condition.
Excess androgen. With PCOS, the ovaries may produce high levels of androgen. Having too much androgen interferes with ovulation. This means that eggs don't develop on a regular basis and aren't released from the follicles where they develop. Excess androgen also can result in hirsutism and acne.
Complications
Complications of PCOS can include:
Infertility
Gestational diabetes or pregnancy-induced high blood pressure
Miscarriage or premature birth
Nonalcoholic steatohepatitis — a severe liver inflammation caused by fat buildup in the liver
Metabolic syndrome — a cluster of conditions including high blood pressure, high blood sugar, and unhealthy cholesterol or triglyceride levels that significantly increase your risk of heart and blood vessel (cardiovascular) disease
Type 2 diabetes or prediabetes
Sleep apnea
Depression, anxiety and eating disorders
Cancer of the uterine lining (endometrial cancer)
Obesity commonly occurs with PCOS and can worsen complications of the disorder.
What to Eat
High fiber vegetables, like broccoli, almonds, berries, sweet potatoes, pumpkin, etc.
Lean protein, like fish, tofu, chicken, etc.
Anti-inflammatory foods and spices, like turmeric, tomatoes, spinach, almonds, walnuts, olive oil, etc.
A healthful PCOS diet can also include the following foods:
natural, unprocessed foods
high-fiber foods
fatty fish, including salmon, tuna, sardines, and mackerel
kale, spinach, and other dark, leafy greens
dark red fruits, such as red grapes, blueberries, blackberries, and cherries
broccoli and cauliflower
dried beans, lentils, and other legumes
healthful fats, such as olive oil, as well as avocados and coconuts
nuts, including pine nuts, walnuts, almonds, and pistachios
dark chocolate in moderation
spices, such as turmeric and cinnamon
Foods to Avoid
In general, people on a PCOS diet should avoid foods already widely seen as unhealthful. These include:
Refined carbohydrates, such as mass-produced pastries, white bread and muffins, etc.
Fried foods, such as fast food.
Sugary beverages, such as sodas and energy drinks.
Processed meats, such as hot dogs, sausages, and luncheon meats.
Solid fats, including margarine, shortening, and lard.
Excess red meat, such as steaks, hamburgers, and pork.
EAT HEALTHY
LIVE HEALTHY
BE HEALTHY !