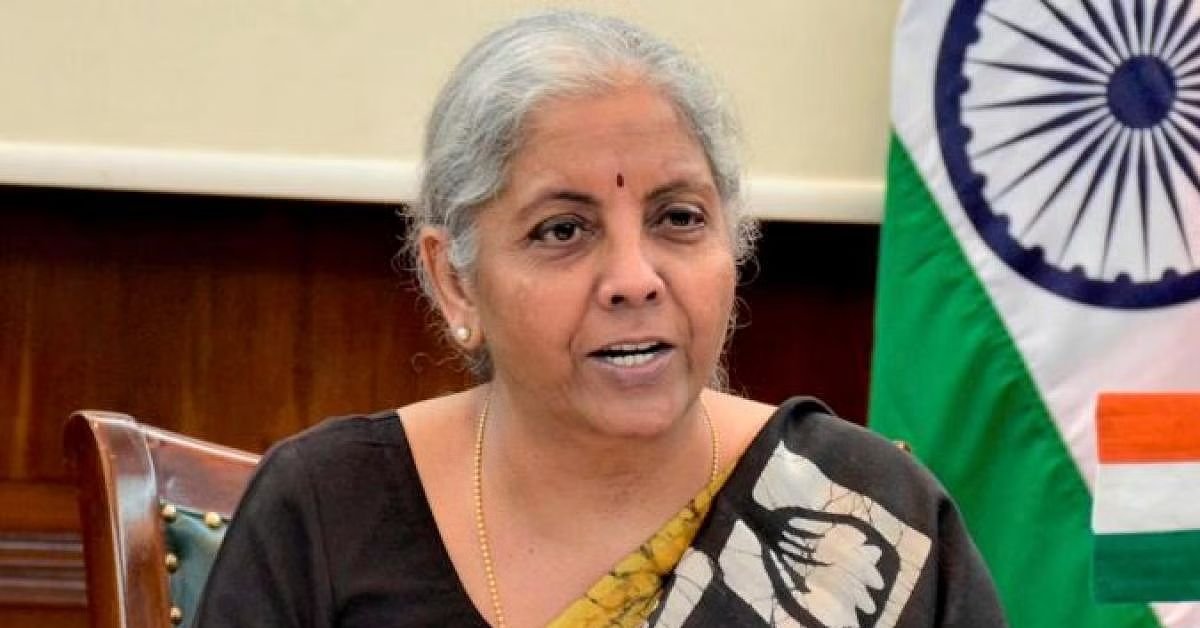 Meet The Finance Minister Smt. Nirmala Sitharaman
Full Name
Smt. Nirmala Sitharaman
Date of Birth
18 August 1959 (age 63)
Place of Birth
Madurai (Tamil Nadu)
Political Party
Bhartiya Janata Party (From 2006)
Educational Qualifications
B.A. (Economics) at Seethalakshmi Ramaswamy College, Tiruchirappalli, Tamil Nadu in 1980. M.A. (Economics) and M.Phil., at Jawaharlal Nehru University, New Delhi in 1984.
Mother's Name
Shrimati Savitri
Father's Name
Shri Narayanan Sitharaman
Marital Status
Married
Date of Marriage
12 September 1986
Spouse's Name
Dr. Parakala Prabhakar
Children
One daughter
Profession
Economist and Political and Social Worker
Position Held:
2003-2005
Member, National Commission for Women
2008
Invited to become a member of the BJP's National Executive
2010
National spokesperson of the party
2012
Worked under Modiji, Organising BJPs media campaign for the elections
26 May 2014 – 9 Nov. 2014
Minister of State in the Ministry of Finance; and Minister of State in the Ministry of Corporate Affairs
26 May 2014 – 3 Sept. 2017
Minister of State (Independent Charge) of the Ministry of Commerce and Industry
June 2014 – June 2016
Elected to Rajya Sabha (resigned w.e.f. 17 June 2016)
July 2016
Elected to Rajya Sabha
3 Sept. 2017 – 30 May 2019
Minister of Defence
31 May 2019 onwards
Minister of Finance and Minister of Corporate Affairs
Highlights:
Sitharaman previously served as the Defence Minister of India, thereby becoming India's second female defence minister and the second female finance minister after Indira Gandhi, and the first full-time female minister to hold each of those portfolios.
During her defence ministry she had headed the Balakot Air Strike carried out by the Indian Air Force in 2019.
During her finance ministry she has presented five annual budgets of India (as of 2023). India reached the mark of a $3.1 trillion economy under her leadership.
During the COVID-19 pandemic in India she was made in-charge of the COVID-19 Economic Response Task Force.
The Jawaharlal Nehru University conferred her the Distinguished Alumni Award in 2019
Forbes Magazine has ranked her 34th among the 100 most powerful women in the world in 2019.
Fortune ranked Nirmala Sitharaman as the most powerful woman in India.
Nirmala Sitharaman Bats for More Women in Power at Women Directors' Conclave, BSE.
Under her finance ministry, the Union Budget 2023 focuses on women empowerment, action plan for tourism, initiatives for artisans and green growth.
Other Information :
She said that "attaining gender balance in company boards is important but the balance of ideas more so." She added, "There is a need to widen the pool of women directors. Why do women need to prove they are worthy of being on company boards? Women don't need patronising… many women have proved themselves and have been recognised."
She stated that, "unequal pay and disparity in wages and treatment of male and female employees is absolutely 'unacceptable'".
She added, "By implementing schemes like Ujjwala, Beti Bachao Beti Padhao, Swachh Bharat, etc, PM Modi has shown the way for women-led development in India. He has shown that he trusts women in leadership roles."
In step toward Women Empowerment the government will launch a 'Mahila Samman Savings Certificate', providing deposit facilities (up to 2 lakhs) at fixed interest rate of 7.5% for the tenure of 2 years, with partial withdrawal option.